Trechos¶
O editor Calibre de ebook suporta trechos. Um trecho é um pedaço de texto que é reutilizado com frequência ou contém algum texto redundante. O editor permite que você insira um trecho com apenas algumas combinações de teclas. Por exemplo, suponha que você insira frequentemente etiquetas de hiperligação ao editar ficheiros HTML: poderá digitar simplesmente <a no editor e pressionar Control+J. O editor irá expandi-lo para:
Not only that, the word filename will be selected, with the cursor placed over it, so that you can easily type in the real filename, using the editor's nifty Auto-completar feature. And once you are done typing the filename, press Control+J again and the cursor will jump to the position in between the <a> tags so you can easily type in the text for the link.
The snippets system in the editor is very sophisticated, there are a few built-in snippets and you can create your own to suit your editing style.
The following discussion of the built-in snippets should help illustrate the power of the snippets system.
Nota
You can also use snippets in the text entry fields in the Search & replace panel, however, placeholders (using Control+J to jump around) will not work.
Trechos integrados¶
The built-in snippets are described below. Note that you can override them by creating your own snippets with the same trigger text.
Criar os seus próprios trechos¶
Snippets really shine because you can create your own to suit your editing style. To create your own snippets go to Edit → Preferences → Editor settings → Manage snippets in the editor. This will pop-up an easy to use dialog to help you create your own snippets. Simply click the Add snippet button and you will see a dialog that looks like: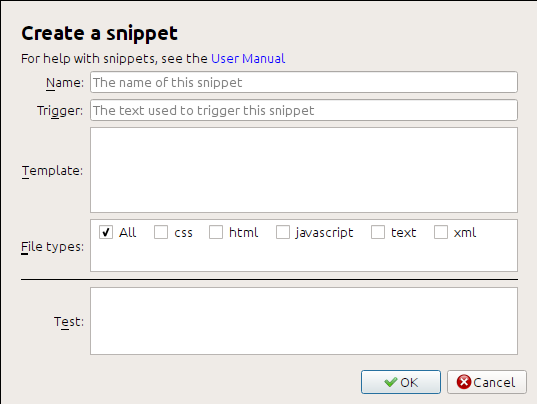 First give your snippet a name, something descriptive, to help identify the snippet in the future. Then specify the trigger. A trigger is simply the text that you have to type in the editor before pressing Control+J in order to expand the snippet.
Then specify the snippet template. You should start with one of the examples above and modify it to suit your needs. Finally, specify which file types you want the snippet to be active for. This way you can have multiple snippets with the same trigger text that work differently in different file types.
The next step is to test your newly created snippet. Use the Test box at the bottom. Type in the trigger text and press Control+J to expand the snippet and jump between placeholders.