Fragmenten¶
De Calibre editor ondersteunt snippets. Een snippet is een stukje tekst dat vaak wordt hergebruikt of veel overbodige tekst bevat. De editor helpt je om met een paar toetsen een snippet toe te voegen. Bijvoorbeeld: stel dat je vaak link labels toevoegt bij het bewerken van HTML files. Dan kan je simpel "<a" in de editor typen en LCTRL toetsen. De editor zal het uitbreiden naar:
Niet alleen dat, het woord bestandsnaam zal worden geselecteerd, met de cursor eroverheen, zodat je eenvoudig de echte bestandsnaam kunt typen, met behulp van de handige functie van de editor: ref: editor_auto_complete. En als u klaar bent met het typen van de bestandsnaam, drukt u op Control+J opnieuw en de cursor springt naar de positie tussen de <a> -labels, zodat je eenvoudig de tekst voor de link kunt typen.
Het snippetsysteem in de editor is zeer geavanceerd, er zijn een paar ingebouwde fragmenten en u kunt uw fragmenten aanpassen aan uw bewerkingsstijl.
De volgende bespreking van de ingebouwde snippets zou de kracht van het snippetsysteem moeten illustreren.
Notitie
U kunt ook snippets gebruiken in de tekstinvoervelden in de :guilabel: Zoeken & vervangen-paneel, echter, plaatshouders (gebruikmakend van Control+J om rond te springen) zullen niet werken.
Ingebouwde fragmenten¶
The built-in snippets are described below. Note that you can override them by creating your own snippets with the same trigger text.
Uw eigen fragmenten maken¶
Snippets really shine because you can create your own to suit your editing style. To create your own snippets go to Edit → Preferences → Editor settings → Manage snippets in the editor. This will pop-up an easy to use dialog to help you create your own snippets. Simply click the Add snippet button and you will see a dialog that looks like: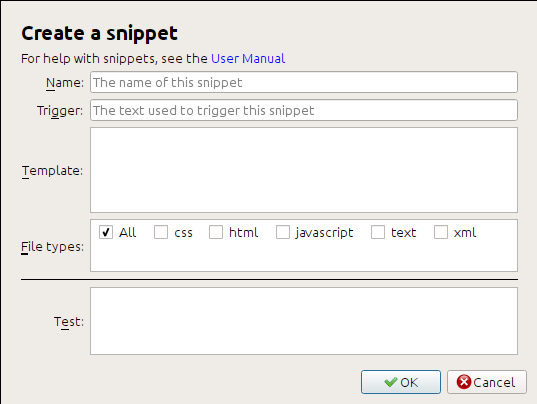 First give your snippet a name, something descriptive, to help identify the snippet in the future. Then specify the trigger. A trigger is simply the text that you have to type in the editor before pressing Control+J in order to expand the snippet.
Then specify the snippet template. You should start with one of the example above and modify it to suit your needs. Finally, specify which file types you want the snippet to be active for. This way you can have multiple snippets with the same trigger text that work differently in different file types.
The next step is to test your newly created snippet. Use the Test box at the bottom. Type in the trigger text and press Control+J to expand the snippet and jump between placeholders.