Raamatute alamgruppide haldamine, näiteks "žanr"¶
Some people wish to organize the books in their library into subgroups, similar to subfolders. The most commonly provided reason is to create genre hierarchies, but there are many others. One user asked for a way to organize textbooks by subject and course number. Another wanted to keep track of gifts by subject and recipient. This tutorial will use the genre example for the rest of this post.
Before going on, please note that we are not talking about folders on the hard disk. Subgroups are not file folders. Books will not be copied anywhere. calibre's library file structure is not affected. Instead, we are presenting a way to organize and display subgroups of books within a calibre library.
The commonly-provided requirements for subgroups such as genres are:
Alamgrupp (nt. žanr) peab sisaldama raamatuid (või neile viitama), mitte raamatute kategooriaid. See eristab alamgruppe calibre kasutaja kategooriatest.

Raamat saab olla mitmes alamgrupis (žanrid). See eristab alamgruppe füüsilistest failikaustadest.

Alamgrupid (žanrid) peavad moodustama hierarhia; alamgrupid saavad sisaldada alamgruppe.
Tags give you the first two. If you tag a book with the genre then you can use the Tag browser (or search) to find the books with that genre, giving you the first. Many books can have the same tag(s), giving you the second. The problem is that tags don't satisfy the third requirement. They don't provide a hierarchy.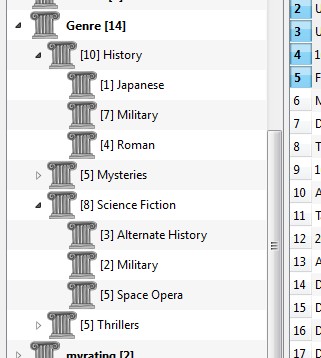 The calibre hierarchy feature gives you the third – the ability to see the genres in a 'tree' and the ability to easily search for books in genre or sub-genre. For example, assume that your genre structure is similar to the following:
Genre
    . History
    .. Japanese
    .. Military
    .. Roman
    . Mysteries
    .. English
    .. Vampire
    . Science Fiction
    .. Alternate History
    .. Military
    .. Space Opera
    . Thrillers
    .. Crime
    .. Horror
    etc.

By using the hierarchy feature, you can see these genres in the Tag browser in tree form, as shown in the screen image. In this example the outermost level (Genre) is a custom column that contains the genres. Genres containing sub-genres appear with a small triangle next to them. Clicking on that triangle will open the item and show the sub-genres, as you can see with History and Science Fiction.
Clicking on a genre can search for all books with that genre or children of that genre. For example, clicking on Science Fiction can give all three of the child genres, Alternate History, Military, and Space Opera. Clicking on Alternate History will give books in that genre, ignoring those in Military and Space Opera. Of course, a book can have multiple genres. If a book has both Space Opera and Military genres, then you will see that book if you click on either genre. Searching is discussed in more detail below.
Another thing you can see from the image is that the genre Military appears twice, once under History and once under Science Fiction. Because the genres are in a hierarchy, these are two separate genres. A book can be in one, the other, or (doubtfully in this case) both. For example, the books in Winston Churchill's "The Second World War" could be in "History.Military". David Weber's Honor Harrington books could be in "Science Fiction.Military", and for that matter also in "Science Fiction.Space Opera."
Once a genre exists, that is at least one book has that genre, you can easily apply it to other books by dragging the books from the library view onto the genre you want the books to have. You can also apply genres in the metadata editors; more on this below.